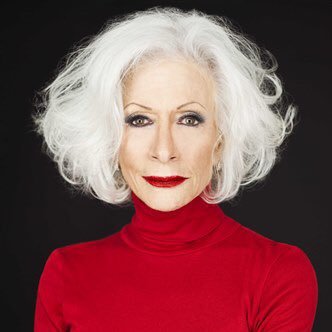 Beauty doesn't have an age limit
By Sue Baldani
In 2014, at the age of 66, Ellen Jamison was in a salon when her whole life took a turn for the dramatic. "I was discovered!" says Ellen. "A woman walked up to me while I was getting my nails done here in Westlake. She said she had a friend who was a commercial agent, and she thought he would be very interested in me."
That friend was Jon Strotheide, the founder of JS Represents, a boutique talent agency in Hollywood. Right after she emailed him some pictures, he asked her to come to his office. "And the rest is history!" she says.
Today, at age 74, Ellen is in hot demand. Jon is still her agent, and Jami Wrenn, from Wrenn Management, is her print agent. Over the years, she has done print ads, billboards and commercials for many well-known brands such as Apple, Samsung, Lyft, Prada, and Lexus.
"I've done about 35 commercials, and my very first one was for Las Vegas – 'What happens in Vegas stays in Vegas.' I really didn't know what I was doing, but I learned quickly. They flew me to Las Vegas, and my husband, Dick, was so proud. "He started calling me 'Miss Hollywood.'"
With her luxurious mane of white hair, red lipstick and large-framed black glasses, Ellen makes quite a striking picture. She has always embraced her look, and never tried to change it artificially. "My hair started turning white when I was 17 and I never dyed it," she says. "I was getting senior discounts in my early 20s and it didn't bother me at all. I was saving money, so I thought it was great."
Through the years, she's continued to embrace her evolving appearance. "The reality is we all get older, and I have never had cosmetic surgery or anything; I think aging is beautiful. If you take a little time to put on makeup and do your hair, it's fun. Every time I go out, I like to dress up. I dress up to go to Trader Joe's. Don't give into your age – enjoy it."
To her, age is just a number and not a timeline of how you should live your life. "It used to be, when I was growing up, when someone turned 60 they threw in the towel and became a 'senior'."
In addition to her attitude, Ellen believes a healthy lifestyle also helps keeps her young. "I don't eat any sugar. I was a real sugar-holic and it took me about two weeks to get it out of my system. That was 20 years ago. And up until COVID, I was dancing three or four times a week. Now I walk and do other things to stay fit, and I eat very healthy."
Modeling, for her, is a whole lot of fun. She did a campaign for TKMaxx (the European counterpart of TJMaxx), and for one ad, they asked if she would mind getting on a float in a pool while wearing a designer dress. She was all for it, so they lifted her onto a big seashell float and took pictures. "They loved that I was willing to do it."
For another commercial, she says they dressed her up like the fun-loving woman she is who's going out on the town and getting into a Lyft car. "They even had me in shorts [she does have great legs from all that dancing] and it was so much fun, even though we shot all day and into the evening. Here I am, 74 years old, and I'm living my second childhood," says Ellen.
"I feel so blessed that later in life I have a whole new career. There's a group of us older models and we all kind of promote each other on Instagram. When I see their pictures and what they're doing, I'm so happy for them. And they're so happy for me. There's a camaraderie there."
Today, she still gets a kick out of people recognizing her when she's out and about. "I did a commercial for BEHR Paint and I was walking in L.A. and heard, 'That's the BEHR Paint lady!' I was shocked!
"I've kind of been reinvented. And now there are so many women who have been energized in their 60s, 70s and 80s. It's refreshing."
To follow Ellen's career, and to see pictures and videos, check out her Instagram page @ellenjamisonofficial. Like her, it's fun, beautiful and uplifting.
Written for Conejo Valley Lifestyle magazine in California.